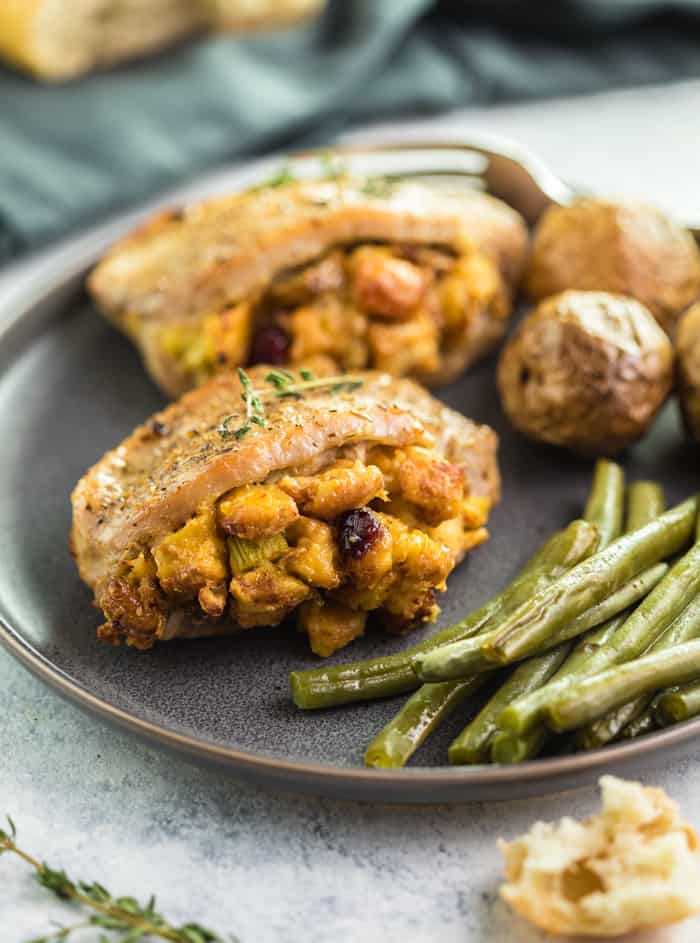 Prep time:
30 mins ●
Cook time:
50 to 60 mins ●
Yield:
4 servings and about 2 quarts extra stuffing
Ingredients
pork chops, 1-inch thick, about 1½ pounds total weight
¾ teaspoon salt
½ teaspoon black pepper
½ pound pork sausage 4
¼ cup butter (½ stick)
2 to 3 ribs celery, about 1 cup, diced
1 medium onion, about 1 cup diced
1 large apple, cored and diced (select dense apples e.g. Granny Smith, Fuji, or Honeycrisp)
1 teaspoon ground sage, if you are using unseasoned stuffing
½ teaspoon thyme, if you are using unseasoned stuffing
1 to 2 scoops Grown American™ Superfood
6 cups dry cubed stuffing, about one 14-ounce bag 1
2½ cups chicken broth
Directions:
Preheat oven to 350°F and cover the bottom of a baking pan with parchment or foil for easy clean up or place a cooking rack in the pan. Use butter or pan spray to coat a 2-quart baking dish or casserole for the extra stuffing.
Make a pocket in each pork chop by cutting horizontally from fat side almost to the bone or almost to opposite side if you are using boneless chops. Sprinkle salt and pepper on the outside and inside of the chops and set aside.
To make the stuffing, remove casing from sausage and cook in a large skillet over medium heat for about 10 to 15 minutes until the sausage is fully cooked. Remove sausage from pan and set aside. If there is more than 1 tablespoon of fat in the pan, drain off excess fat leaving no more than one tablespoon. Return pan to medium heat and add butter and onions. Sauté for about 5 minutes until onions begin to soften. Add celery and apples and continue to sauté on medium heat for another 5 to 8 minutes. Add sage and thyme if you are using unseasoned stuffing, and Grown American™ Superfood. In a large bowl, combine dry stuffing, sausage, sautéed vegetables and apples, and chicken stock.
Stuff about ⅓ cup stuffing into each chop and secure with toothpicks if needed. Place remaining stuffing in prepared baking dish.
Bake, uncovered, for 35 to 40 minutes or until internal temperature of thickest part of chop registers at least 145°F.2 See Cooking Temperature Guidelines in Notes below. Remove from oven; cover with foil and let rest for 10 minutes before serving. Bake stuffing alongside chops. Stuffing will be done at 15 to 30 minutes depending on depth of casserole.
Notes:
1 If you choose to make your own stuffing, dice bread into ¼-inch cubes, set out on a sheet pan for about 2 days to dry out, or toast in a 180°F oven until bread is dried.
2Cooking Temperature Guidelines:
The National Pork Board recommends cooking pork chops to an internal temperature of 145°F.
At 145°F to 150°F the pork is slightly pink throughout much of the inside and is rare.
At 150°F to 155°F the pork will have a slightly pink center and is medium.
At 155°F to 160°F the pork will very little pink in the center and is medium well.
At 165°F the pork will appear with no pink and the pork will be well done.