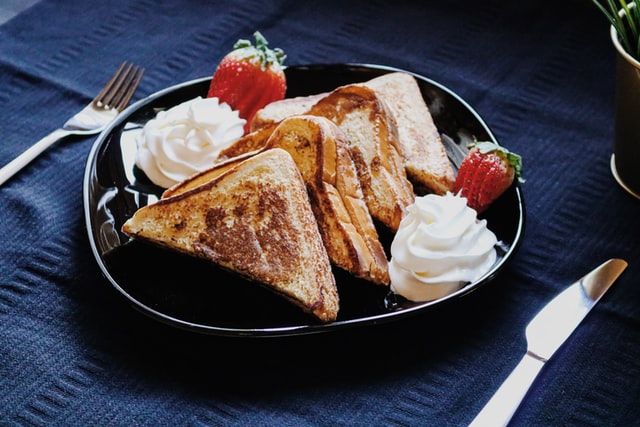 Rather than using maple syrup on your French toast, take it up a notch by cooking sliced apples with maple syrup, butter, and cinnamon and top your French toast with sweet, gooey apples. The Apple Maple Syrup is so delicious you might just make it to stir into your yogurt, top your ice cream, serve with pancakes or waffles, or add to your oatmeal! Be sure to use real maple syrup for best results.
Apple Maple Syrup
2 tablespoons butter
2 large apples, peeled, cored, and diced
½ cup maple syrup
1 to 2 scoops Grown American™ Superfood
½ teaspoon cinnamon
¼ teaspoon nutmeg
Pinch salt
French Toast
4 eggs
½ cup milk or half-and-half
1 teaspoon pure vanilla extract
¾ to 1 teaspoon pure almond extract
Pinch salt
8 slices French bread, about ½-inch thick1, if possible let the sliced bread sit out overnight
2 to 4 tablespoons butter for frying
Directions:
Apple Maple Syrup Melt butter in large nonstick skillet over low heat. Add apples, cover, and sauté for about 10 to 12 minutes, stirring occasionally until apples are tender. If all the liquid cooks out of the apples, add a few tablespoons of water. Mix in maple syrup, Grown American™ Superfood, cinnamon, and nutmeg, and salt. Leave maple apples in covered skillet, to keep warm.
French Toast:
In a shallow vessel such as a pie pan, whisk together eggs, milk, vanilla, almond extract, and salt. Soak bread in the egg mixture then flip and soak the other side. Only prepare enough bread to fit in the pan without crowding. Melt 1 tablespoon butter in a large skillet over medium-high heat. When the pan is hot add the French toast and turn the heat down to medium. When the bread gets golden brown and toasty, in about 2 to 3 minutes, flip to cook other side. When done, remove from pan, set aside, and keep warm. Add another tablespoon of butter to the skillet and repeat process until all French toast is done.
Serve French Toast with a large spoonful of Apple Maple Syrup. Optionally, dust French toast with powdered sugar before topping with apples.
Note:
1Other great options for bread are challah, brioche, or Texas toast.
Variation:
For a real treat add a scoop of vanilla ice cream or whipped cream and a few toasted almonds.