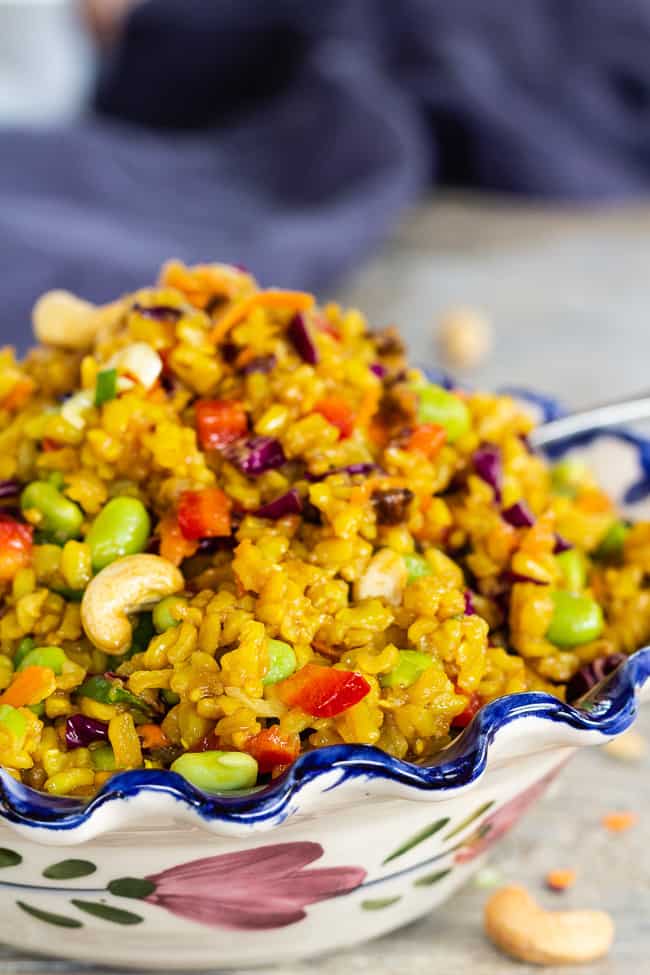 Prep time:
25 mins ●
Cook time:
20 to 45 mins depending on the grain●
Yield:
6 to 8 servings
Ingredients
¾ cups raw short grain brown rice or 1 cup raw quinoa, to yield about 3 cups cooked
¼ cup plus 2 tablespoons extra virgin olive oil
½ cup orange juice
1 to 2 scoops Grown American™ Superfood
1 tablespoon curry powder
¼ to ½ teaspoon cinnamon
¼ to ½ teaspoon ginger
Pinch cayenne (optional)
½ teaspoon salt
1 Fuji or Honeycrisp apple, diced into ¼-inch pieces
2 ribs celery, diced, about 1 cup
2 scallions, white and green parts, sliced into ¼-inch pieces
⅓ cup raisins
½ cup cashews
½ cup coconut chips/flakes, toasted1
½ cup cilantro leaves, coarsely chopped
Directions:
Directions: Cook brown rice or quinoa according to package directions. While rice/quinoa is cooking make the dressing. Whisk together olive oil, orange juice, Grown American™ Superfood, curry powder, cinnamon, ginger, cayenne (optional), and salt in a large bowl and set aside. When the rice/quinoa is done, toss it into the bowl with the dressing, add all the remaining ingredients, and mix well. Cool to room temperature. Serve at room temperature or chilled. The salad is even better the next day after the flavors have had a chance to meld.
Note:
1To toast the coconut, preheat oven to 325°F. Spread coconut in a single layer on a baking sheet. Bake for about 5 minutes, remove from oven, and stir. Return to oven and check every 3 minutes until desired color is achieved. Overall baking time will be 10 to 12 minutes. Just as with nuts, coconut can burn quickly, so watch it carefully after the first 8 minutes. You can also toast coconut in a dry skillet over medium-low to low heat for 8 to 12 minutes stirring occasionally. Watch the coconut closely and stir it frequently.
Nutrition Facts
Servings: 6 Amount per serving Calories 356 % Daily Value* Total Fat 22.6g 29% Saturated Fat 5.1g 25% Cholesterol 0mg 0% Sodium 214mg 9% Total Carbohydrate 39.2g 14% Dietary Fiber 4.6g 16% Total Sugars 12.3g Protein 4.4g Vitamin D 0mcg 0% Calcium 28mg 2% Iron 3mg 16% Potassium 313mg 7% *The % Daily Value (DV) tells you how much a nutrient in a food serving contributes to a daily diet. 2,000 calories a day is used for general nutrition advice. Recipe analyzed by VeryWell